A Timeline of Supercar Innovations Over The Decades
Features that are ho-hum today first began as futuristic ideas in exotic environs.
Warning lights on your dashboard may be commonplace—even required—now, but when the Lamborghini Countach came out in 1974, the idea was more science fiction than reality. The car's designer, Marcello Gandini, dreamed up a spaceship-like display for the center console that would blink when the car exceeded a set speed, a system that would also presage advanced modern cruise control. Likewise, nobody thought all-wheel drive or a flat-six engine could be associated with the world's fastest car until Porsche did it with the 959 in 1986.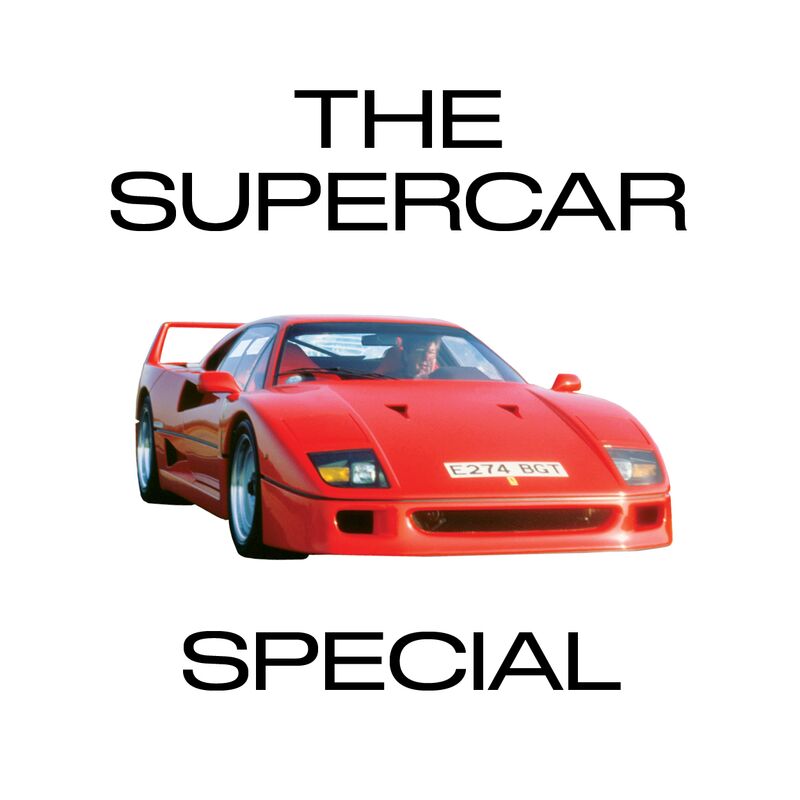 But supercars have always been on the cutting-edge frontier—that's why they appeal to our imagination. A speed-sensitive electronic rear wing and air flaps near the rear window of the Bugatti EB110 were the 1990s precursor to today's "active aero" kits, which can even help slow down the car under additional braking. The McLaren P1 and Porsche 918 Spyder hybrids proved electric supercars can keep up with those powered by combustion, while looking even sexier.
Here's an abbreviated survey of the supercars that have driven innovation through the decades.
1960s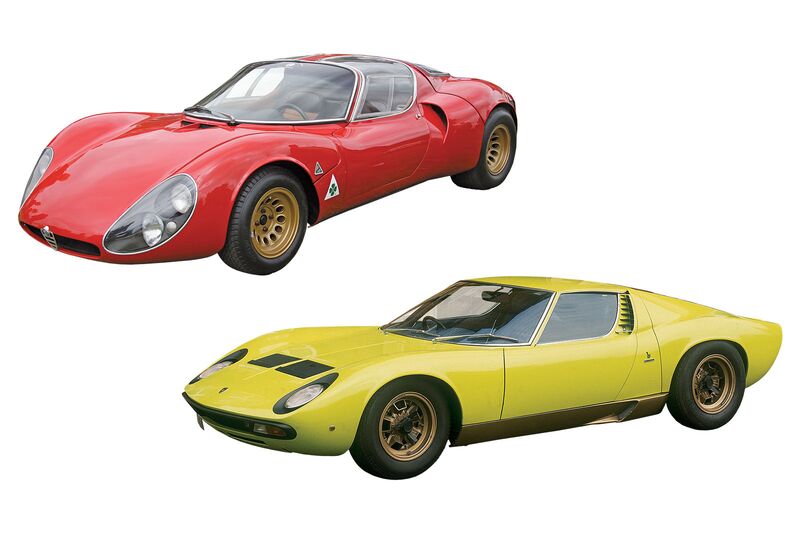 LAMBORGHINI MIURA
Released in 1966, it was not only the fastest production car on the road—with a top speed of 174 mph and a zero to 62 mph time of 6.7 seconds—but also the first of its kind to include the midengine, two-seat layout that's been the supercar norm ever since. The low ride height and cockpit design influenced countless others.
ALFA ROMEO 33 STRADALE
The first production vehicle to use dihedral, or butterfly, doors, the Alfa Romeo 33 Stradale had a unique body made from magnesium components and a suspension taken from the more glamorous and successful Italian race cars of the 1960s. Only 18 were made, starting in 1967, but the design proved very influential.
1970s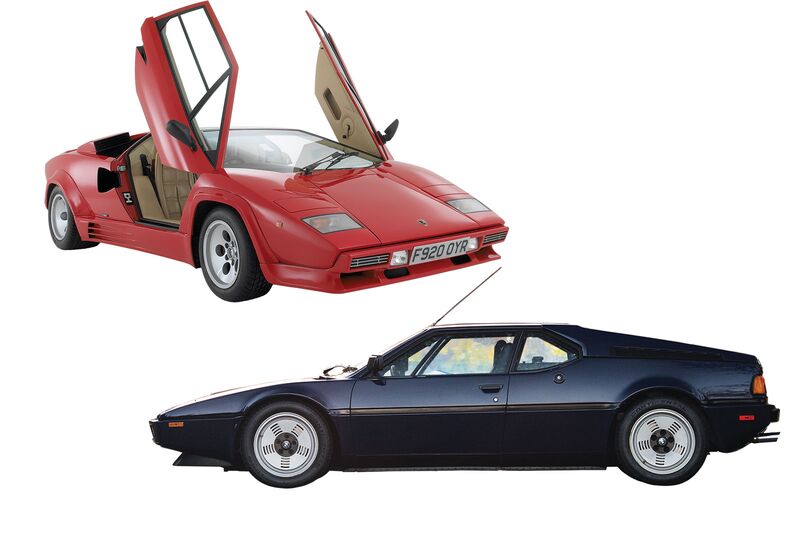 LAMBORGHINI COUNTACH
With a long production life (1974-90), the Miura's successor affected wedge-shaped cars for decades. Its V-12 engine could produce 375 horsepower—twice that of the era's standard sports car. The then-new scissor doors ended up on subsequent models, including today's Aventador SVJ Roadster.
BMW M1
Made in 1978 in a unique partnership with Lamborghini and inspired by BMW's Turbo concept car from 1972, the M1 had a fiberglass body and a six-cylinder engine that was the brand's first to be midmounted and produced for road use. (The second was the i8 hybrid, which came out in 2014.)
1980s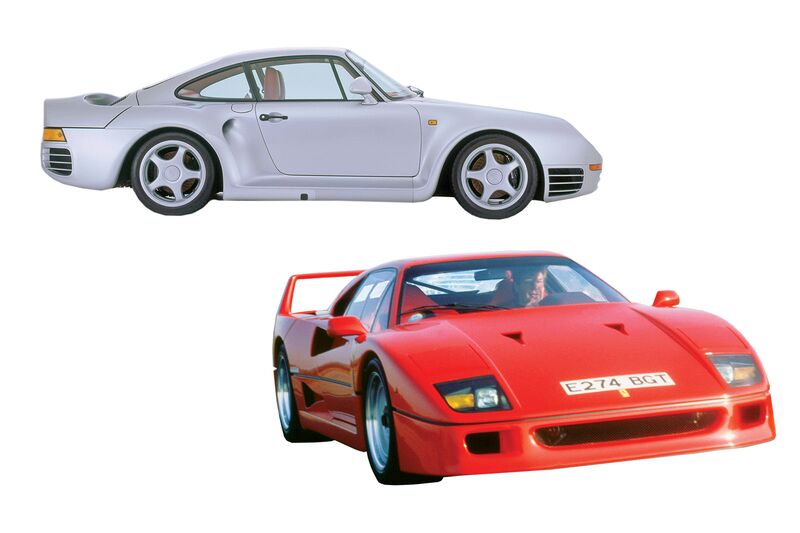 PORSCHE 959
Until the Carrera GT and the 918 hybrid, this was Porsche's only supercar. The twin-turbocharged flat-six 959 was the fastest production car on the road at its debut in 1986, with some variants capable of 211 mph. The car was progressive for its use of turbo engines and a novel all-wheel-drive system.
FERRARI F40
When it appeared in 1987, the F40 was Ferrari's fastest (201 mph top speed), most powerful (478 hp), and most expensive ($417,000) car. Only 1,315 were made. Its raw good looks—that chiseled front end, big hips, massive NACA ducts, and wide rear wing—made it the poster child of the '80s.
1990s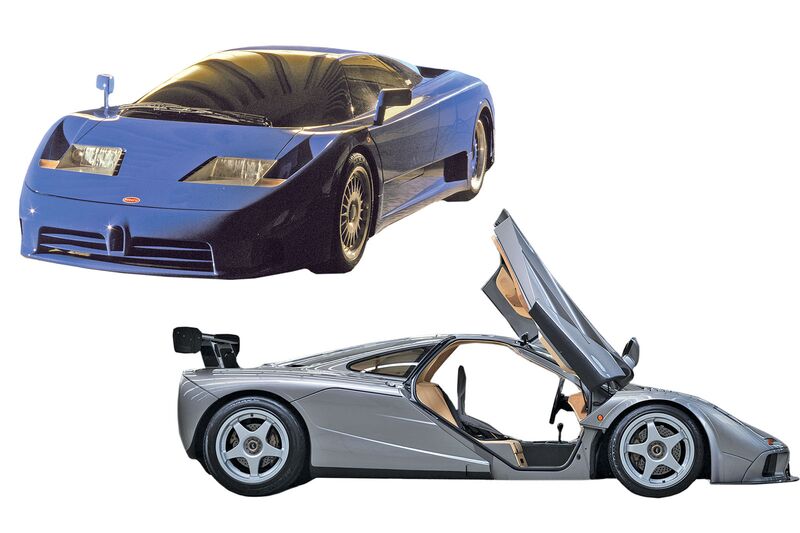 BUGATTI EB110
At its debut in 1991, the EB110 had futuristic innovations—a double-wishbone suspension and a glass cover for a view of its V-12 engine—much like today's Koenigsegg and Bugatti Chiron. A speed-sensitive electronic rear wing and air flaps foreshadowed the "active aero" kits that streamline cars now for faster acceleration.
MCLAREN F1
The three-seat F1 set the record in 1998 for world's fastest production car at 240.1 mph. It was one of the first to use a carbon-fiber monocoque chassis, enabling its bodyweight to be lighter than many of its peers. Its side mirrors used light indicators ahead of its time.
2000s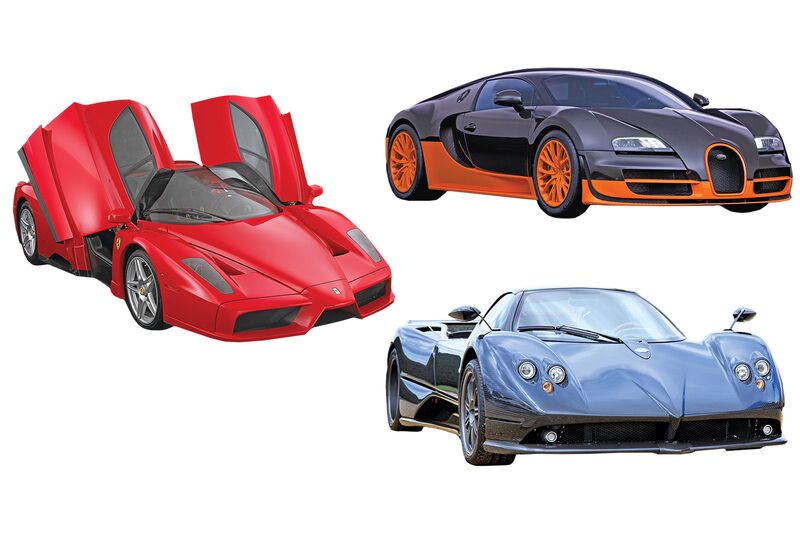 FERRARI ENZO
The 12-cylinder, 660-hp, midengine sports car represented the pinnacle of Ferrari's engineering. It came with a progressive automated manual shift transmission and active aerodynamics like movable front underbody flaps and a small adjustable rear spoiler and diffuser.
BUGATTI VEYRON
One of the fastest cars in the world, with a top speed of 267.8 mph and a dual-clutch direct-shift transmission. The Veyron has a rarely seen W-16 (a 16-cylinder piston engine with four banks of four cylinders in a W configuration) that achieves 1,000 hp.
PAGANI ZONDA
Made mostly from carbon fiber, it originally came with a five-speed manual transmission and Mercedes-built V-12 engine able to do zero to 100 mph in just over 9 seconds. Also distinctive: its dual sets of headlights and jewelry-like interior.
2010s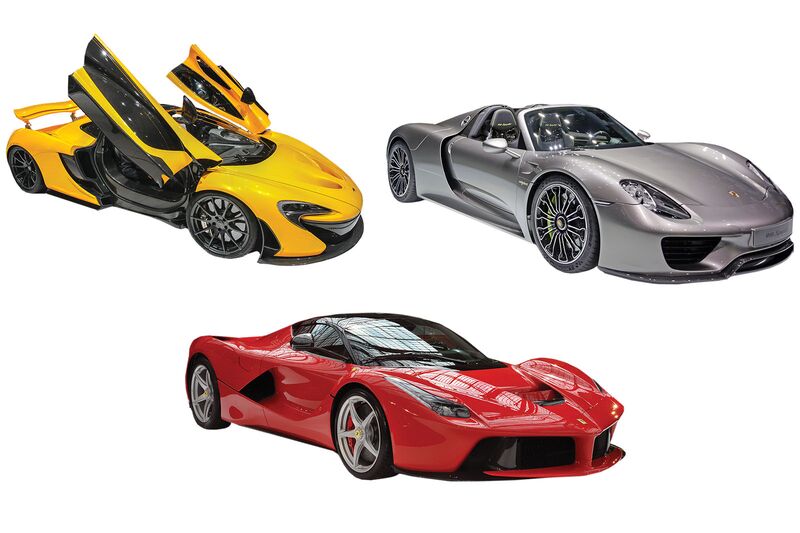 MCLAREN P1
The successor to the F1, produced from 2013 to 2015, was a plug-in hybrid that used an experimental roof structure called the "monocage." The design came from the first McLaren production car, the MP4-12C, and has now been used in subsequent models.
PORSCHE 918 SPYDER
Released in 2013, the all-wheel-drive plug-in hybrid was the first of its kind from the German manufacturer. It paired an electric motor with a naturally aspirated V-8 midengine and seven-speed dual-clutch paddle shifting for a total of 887 hp. And it looked nothing like the boxy hybrids dominating the consumer landscape.
FERRARI LAFERRARI
Ferrari's first hybrid, in 2013, combined a V-12 engine with one electric motor and a seven-speed automatic transmission. With 949 total horsepower, it had the most muscle of any Ferrari ever—and 40% better fuel efficiency. Of the 499 made, each cost more than €1 million ($1.2 million).
Credit: Bloomberg